The Society of the Wallace Fountains was honored by the Stéphane Bern Foundation for History and Heritage.
17 May 2023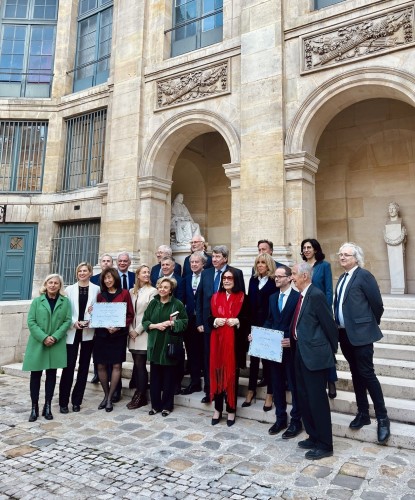 On May 16, 2023, the 2022 History and Heritage Awards were held at the Institut de France, presented by the Stéphane Bern Foundation for History and Heritage.
This foundation was created in 2016 with the aim of protecting the built heritage on French soil by awarding prizes that recognize heritage valorization projects.
During the 7th edition of this award ceremony, the Société des fontaines Wallace was particularly honored. The jury awarded it the "Coup de Cœur" mention, thus acknowledging its efforts in promoting and protecting the Wallace fountains. The Société des Fontaines Wallace also works to preserve the memory of Richard Wallace, a prominent philanthropist and art collector of the 19th century.
Despite being of English nationality, the famous collector had a deep affection for France. He spent a significant part of his life in his elegant property at Bagatelle, in the heart of the Bois de Boulogne – a place well-suited for his love of the 18th century. He turned his home into a showcase for his impressive collection, which included works by Watteau, Boucher, Fragonard, Poussin, Nattier, and many others. This appreciation for beauty is notably reflected in the creation of the Wallace fountains.
With a strong attachment to Paris and deeply moved by the poverty, unsanitary conditions, and destruction caused in the capital by the Franco-Prussian War of 1870, Sir Wallace donated over a hundred public drinking fountains to the city, accessible to all. He personally designed the fountains in collaboration with the sculptor Charles-Auguste Lebourg, combining utility and beauty. The fountains thus fulfill two essential needs: one related to the body and the other to the spirit.