The exterior façades of the Trianon will soon be restored !
27 February 2023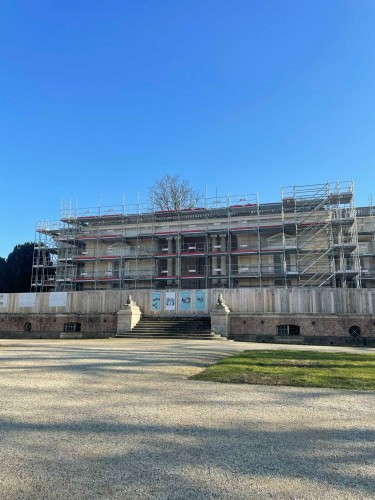 The Mansart Foundation is pleased to announce the beginning of the restoration work on the exterior façades of the Trianon, which celebrates its 150th year in 2023.
Constructed in 1873 at the request of Sir Richard Wallace, the architecture of the Trianon is inspired by that of the Petit Trianon at Versailles.
Like his father, the fourth Marquis of Hertford, who bequeathed him the Bagatelle Castle, Wallace was a great lover of French art from the 18th century. He entrusted the architect Léon de Sanges with the demolition of the Pages Pavilion and the construction of the Trianon. Already familiar with the Bagatelle estate, Léon de Sanges had previously been commissioned by the Marquis of Hertford to build the fire pump, the stables, and the Orangery.
The Trianon was originally intended for Edmond Wallace, the son of Richard Wallace. Unfortunately, family disputes and the death of Edmond due to a heart attack in 1887, at the age of forty-seven, prevented him from ever inhabiting it. The two men never had the opportunity to reconcile, and this loss marked Richard Wallace until the end of his life.
The Trianon consists of a large central salon, two boudoirs, two bedrooms, and a smoking room. The rooms are spacious and feature high ceilings, providing zenithal light. Subsequently, the city of Paris, the new owner of Bagatelle, hosted numerous exhibitions within this building, some of which enjoyed global success.
The Mansart Foundation will continue this tradition as the Trianon, restored with the support of the Perrot & Richard agency, will once again house temporary exhibitions.