Triple birthday at the Maintenon Castle
06 October 2023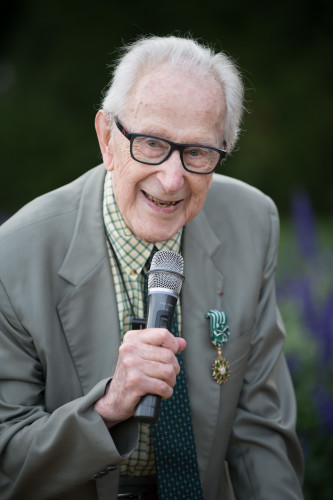 On Thursday, October 5th, the Maintenon Castle represented the setting for a triple anniversary.
70 years of Jean Raindre's engagement with the Maintenon Castle

This event marked, first and foremost, the 70th anniversary of Jean Raindre's personal engagement and commitment to the restoration of the site.
In 1953, the Duke Adrien de Noailles passed away. His son and grandson had heroically died during the Second World War, and his granddaughter Geneviève de Noailles inherited the Maintenon Castle, which was in very poor condition at the time due to damage from explosions and bombardments. Married to Jean Raindre since 1947, they decided together to take on the challenge of restoring the castle. The couple embarked on a colossal mission: to restore the castle's roofs, windows, and decorations that we can admire today. Their passion, determination, and courage were the pillars of this gradual renaissance.
During this evening, Jean Raindre was awarded the insignia of an officer in the Order of Arts and Letters, a distinction that recognizes his exceptional commitment.

40 years of the Mansart Foundation
Founded in 1983 by Geneviève de Noailles and her husband Jean Raindre to preserve the Maintenon Castle, the Mansart Foundation is celebrating its fortieth anniversary this year.
Recognized as a Foundation of Public Utility, its main objective is to preserve and restore cultural, historical, natural, and architectural heritage so that it can be transmitted on to future generations.

10 years of the French gardens at the Maintenon Castle

The French gardens of the Maintenon Castle are celebrating their tenth anniversary. They are the result of André Le Nôtre's vision, who, in 1676, on the orders of King Louis XIV, designed the plans for the park of the Maintenon Castle.
It was in 2013 that these exceptional gardens were finally created. To commemorate the 400th anniversary of Le Nôtre's birth, the Eure-et-Loir Departmental Council undertook this large-scale project.
The transformation of the parterre was entrusted to the gardener Patrick Pottier and entirely carried out by the Green Spaces Department of the Eure-et-Loir Departmental Council, under the direction of Gilles Loiseau.
This event at the Château de Maintenon is a tribute to decades of efforts to preserve this iconic French heritage site, which endures today thanks to the Mansart Foundation and the support of the Eure-et-Loir Departmental Council.