Civic Service at the Mansart Foundation: An Enriching Commitment in the Service of Culture and Heritage
26 September 2023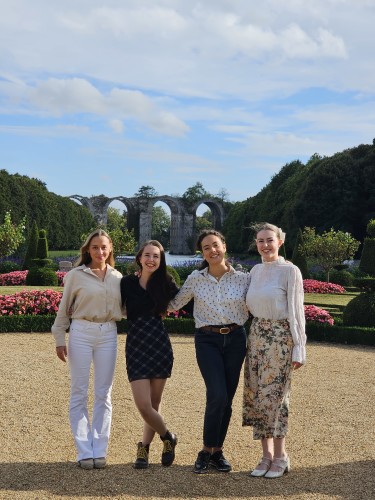 The Civic Service is an exceptional opportunity for young people aged between 16-25 to gain new skills, serve society, and engage civically. Lasting for 6 to 12 months, Civic Service allows young people to choose a mission from a variety of fields such as solidarity, health, education, cultural heritage, sports, the environment, international development, and emergency response.
At the Mansart Foundation, we offer a 6-month Civic Service program in the field of culture and leisure. Our young volunteers undertake versatile missions, contributing to making culture accessible to everyone.
Discover our engagement and the individuals who make it possible.
Our Civic Service volunteers play a significant role in:
Prospecting for new audiences, reaching out to them, and establishing partnerships with organizations that host or support them, in order to propose them to participate in activities related to discovering our heritage;
Actively participating in the co-organization and follow-up of workshops and guided tours, providing visitors with enriching experiences;
Facilitating and participating in group receptions, creating a warm and inclusive atmosphere for all our visitors;
Playing a pivotal role in communication, both on social media platforms and through the creation of promotional materials such as posters, to raise awareness and promote the actions and initiatives of the Mansart Foundation;
Discovering the behind-the-scenes dynamics of a cultural institution dedicated to heritage, as well as the various stages of organizing artistic events, such as historical exhibitions and memorable concerts.
This year, we are proud to welcome Joséphine, Océane, and Christelle, three young Civic Service volunteers who bring their enthusiasm and energy to the Mansart Foundation. Additionally, we have welcomed Sara, a communication intern, to strengthen our team.
Civic Service at the Mansart Foundation is not just a civic commitment; it is a rewarding adventure that gives young people the opportunity to contribute to culture while developing their professional skills.