The completion of the initial phase of the restoration of Bagatelle
01 March 2022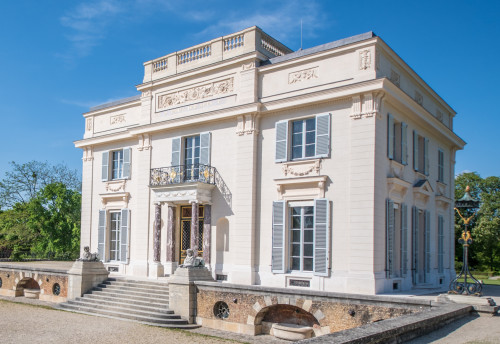 The Mansart Foundation has recently concluded the initial phase of restoration work at the Bagatelle Castle, a project that has been successfully completed in just seven months. This achievement was made possible through the collaboration of highly skilled artisans. Their remarkable expertise has led to the refurbishment and gilding of the balconies with gold leaf, the restoration of marbles, including those adorning the columns at the entrance to the main courtyard, and the repair of previously severely damaged roofs.
All the façades have also been meticulously restored, restoring the castle's original colors. Given their very poor condition, the numerous decorations present on its walls, such as those bordering the windows, underwent sampling and analysis in order to be perfectly reproduced before being integrated into the facade. Finally, a remarkable effort on the door and its lintel has completed the restoration of this folly, a masterpiece of 18th-century French architecture.
Born from a daring challenge between Marie-Antoinette and the Count of Artois, Bagatelle Castle was created in 1777, a remarkable achievement realized in just 64 days and nights of intense labor. It required the labor of 900 workers, and the raw materials delivered to the capital during that period were mostly requisitioned.
This castle stands as the last royal residence constructed before the revolution. Over the years, it has passed through the hands of renowned owners, including Napoleon, the Duke of Berry, the Marquis of Hertford, and Sir Richard Wallace, each of whom made various modifications. Throughout the 20th century, Bagatelle's splendid setting, now owned by the city of Paris, has played host to numerous royal visits and garden parties.
In 2019, the Mansart Foundation was entrusted with the task of restoring the castle, with the aim of opening it to the public. Following the exterior restoration work, the focus has now shifted to interior renovations, in order to once again reveal the exceptional 18th-century decorations.