restoration of the principal door of the bagatelle castle
02 May 2022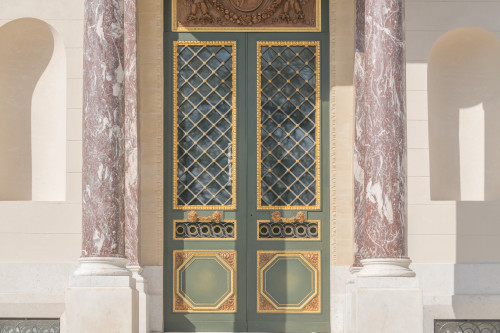 The entrance door - a vestige from the first castle of the Count of Artois - has been completely restored. It has thus regained its original polychromy, combining a bronze-green patina with dazzling gilding made of pure gold leaves.
The restoration process was divided into several steps.
First, the door itself was rehabilitated. The bronze elements were removed and restored in a workshop before being reinstalled in their original positions, while the missing elements were replaced.
Succesively, the door's surfaces underwent treatment. The pink patina was stripped away to reveal a double layer of green and a gray patina simulating verdigris. The gilding on all bronze elements was restored, reinstated, and patinated.
Finally, Lhuillier's lintel was cleaned with clear water. Its gray patina was removed to reveal a natural bronze hue, and a micro-crystalline wax with a satin finish was applied for the final touch. The gilding with mordant on the frame and the medallion's circle was also redone.