Welcome to the civic service volunteers working at the Mansart Foundation
04 July 2022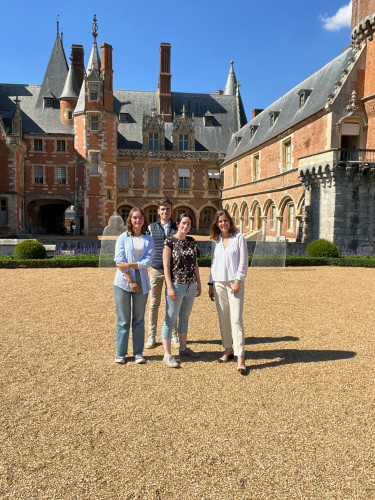 The volunteers in civil service at the Mansart Foundation were welcomed to the Château de Maintenon on this beautiful sunny day, and they enjoyed the magnificent garden "à la française".
This garden is a legacy of André Le Nôtre, who, in 1676, under the orders of King Louis XIV, designed the plans for the park of the Maintenon castle. He had a canal dug that passed under the aqueduct, bordered by two planted alleys. One is named after him, while the other, called "Racine," pays homage to the famous poet and playwright who worked at Maintenon on the tragedies "Esther" and "Athalie."
Unfortunately, his plans had never been executed until 2013, when the Eure-et-Loir Departmental Council created a new garden "à la française" at the Maintenon castle to commemorate the 400th anniversary of Le Nôtre's birth.
The restoration of the gardens relied on an original plan from the Robert de Cotte collection, dated 1686 and found in the archives of the National Library of France. This plan helped recreate a parterre faithful to the original spirit, respecting the perspectives of the castle up to the aqueduct.
This exceptional project was entrusted to Patrick Pottier, the head gardener at the Champ-de-Bataille castle. The redesign of the parterre was entirely carried out by the Green Spaces department of the Eure-et-Loir Departmental Council, which continues to regularly decorate the garden, featuring 12,000 boxwood plants forming borders, 65 rose trees, 58 topiaries, and 60 formed yew trees.
During the summer season, the Mansart Foundation team had the opportunity to admire the 2,000 roses and the 2,000 blue and white salvias that enhance and embellish this garden.