150 years of the Wallace Fountains at the Bagatelle castle
24 September 2022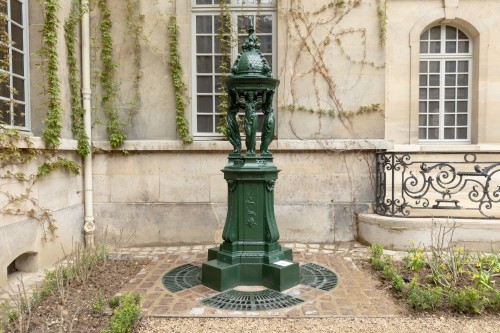 On the occasion of the 150th anniversary of the famous Wallace fountains, the Mansart Foundation opened the doors of the Bagatelle Castle to the public to trace the life of the philanthropist and art collector, Sir Richard Wallace (1818-1890).
The eponymous fountains originated from Wallace, who lived at Bagatelle for a long time and housed his collection of 18th-century French art there. It was one of the most magnificent collections in the world, consisting of 5,500 pieces of furniture, paintings, and art objects.
The fountains were born in the aftermath of the Siege of Paris and the Commune. Consequently to the destruction of numerous aqueducts and a significant increase in the price of water, Wallace decided to offer fountains to the city of Paris, providing free access to drinking water for all.
These large green cast-iron fountains have become an integral part of Paris's cultural heritage. Designed by Wallace, they are adorned with four caryatids supporting a dome placed on their heads, each embodying the virtues of kindness, charity, simplicity, and sobriety.
As part of this commemoration organized by the City of Paris, the Mansart Foundation offered guided tours of the Bagatelle Castle and an exhibition retracing the life of Sir Richard Wallace in collaboration with the Wallace Collection.